Stuart Kestenbaum to read his poetry at 26 Split Rock Cove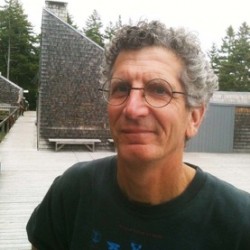 I am thrilled to hear that
Stu Kestenbaum
will be the next
Poet Laureate of Maine
!  I asked Stu to come and read at one of the Poetry Salons for many reasons.  First and foremost, his poetry.  I am eager to hear work from his newest book,
Only Now
, as I haven't yet read it.   I like to dip into
Prayers and Run-on Sentences
as Stu seems to express some of my feelings about living in Maine.
I also have a deep fondness for Haystack Mountain School of Crafts.  I have many friends and colleagues who have taken workshops, taught courses, or just visited that beautiful campus.  As an artist and poet, I have an affinity for the person who moves back and forth between words and objects.  I'm hoping others here in the mid-coast region will come to hear Stu for that reason.
And now I can also say I've had two of the five Maine Poet Laureates read at 26 Split Rock Cove.  I hope you'll join me on Sunday May 22 at 3 pm to meet Stu Kestenbaum, to listen to his fine poems, and to be with other like-minded artists, poets, and poetry enthusiasts for this fun afternoon.
Reservations are suggested, but not necessary.  A reception will follow the reading!