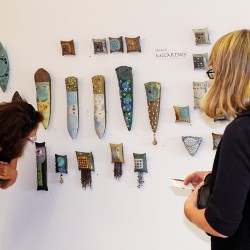 This month began with the first ever Open Studios at
26 Split Rock Cove
. It was wonderful to invite friends, neighbors and many others in the art community to see all the work that is being produced here. Take a look at some examples from the weekend of September 7 & 8. I'll continue tomorrow with more news about our September workshops.
Victoria spends about 6 months in Maine. She is a calligrapher and encaustic painter. She is also an enthusiastic community member here at 26 Split Rock Cove.
Visiting Artist Sharon McCartney at work in her studio. Sharon spent one month in residency at 26 Split Rock Cove. She produced and produced and produced these fabric sculptural works, and she is also known for her artist books, collages, and larger fiber works. You can see her work on line. I hope to bring her back in late spring for an Altered Book workshop.
The Ceramic Studio. Beth Steele, Diane Hebert, and Otty Merrill moved this equipment from their Lincoln Street Studios last fall. Along with Avery Larned, they have maintained an open studio format. Please be sure to contact any one of them if you're interested.
Otty has been a constant force for the artists at 26 Split Rock Cove. She organized the move here from Lincoln Street. She has taught several encaustic painting workshops, and she has provided a lot of connections between us all. Thank you, Otty!
Marnie recently moved to Maine and set up shop here. Her delightful sculptures, and her participation has been great for our studios.
Stay tuned – there's more coming ….