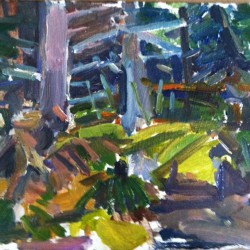 The summer continues with artists and workshops. Rhode Island painter and educator, Kathy Good, spent two very productive weeks at 26 Split Rock Cove towards work for her MFA program. While the ocean called, the wooded areas called louder.
Also, we had a wonderful one-day writing workshop here last Saturday, July 13. Led by Rockport's, Kathrin Seitz, and titled Writing from Place / Gathering Images, eight participants wrote pieces of memoir, poetry, and essay as they gathered inspiration from the land and ocean here at Mussel Ridge, as well as the gardens on Barbara Reitz's property. The weather cooperated, the breeze off the ocean was heavenly. Here we are reading our work at the end of the day.
And more to come, as our Encaustic Painting workshop gets underway next week! We are fully enrolled, and the studios are ready for a wonderful 3 days of work! Check back for more pictures and a review of the work.