iPhone / iPad Artistry Workshop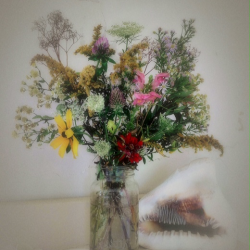 Well, I don't know about you, but I have loads of pictures on my iPhone, and though mine are pretty well organized, I haven't really spent time editing, and making the best of my images. And now comes along one of our own local photographers Roberta Bauman, with a workshop entitled iPhone / iPad Artistry. As Roberta says, "
This is your opportunity to discover the power, fun, and stunning output that's possible from your iPhone!"
On March 29, 2015 Roberta Bauman will conduct a full day workshop for up to 10 students. Here's the description – be sure to register on the 26 Split Rock Cove  website at Workshops!
The best camera for taking photos is the one that you always have with you. Lurking inside your iPhone is one of the most inspiring, capable, and fun imaging systems in all of photography.  More than just a snapshot device, your iPhone is a powerful creative tool for making art, right in the palm of your hand. You now have both camera and darkroom in your pocket.  Photographing with a mobile device adds a level of convenience, flexibility, and spontaneity to the photographic process.
This one-day class will provide a solid introduction to using the iPhone/iPad as a creative tool for editing photos.  Information about preparation of your device for this workshop, as well as needed apps, will be provided to registered participants so that they may be downloaded in time for the first class.