Our first workshop for 2015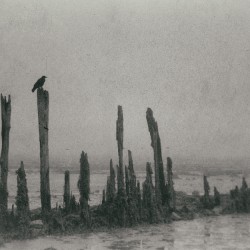 Even though it's only January 12, it definitely feels like we've turned the corner on winter. The sky is a little lighter around 5 pm, Ground Hog Day is just a few weeks away, and I'm organizing and planning new workshops for the later winter, spring and summer.   I, like many other artists here in Maine, find winter to be a good time to get new ideas going.  So in addition to spending time in my studio, I'll be highlighting our upcoming workshops and artists over the next few weeks.
26 Split Rock Cove has had so many terrific artists staying in the retreat space, working on new ideas, and new bodies of work, it seems natural that some artists might want to teach a workshop here or there.
Photographer Amy Parrish, who will be in residence here during the months of February and March will be offering a 3 day retreat, March 13 – 15, entitled Creative Haven: Alternative Photo and Printmaking Processes.   In this workshop artists will explore a range of alternative printmaking and presentation techniques to add to their repertoire (encaustic, image transfers, textile printing, and more). This intimate retreat will be limited in size to allow for lots of flexibility so that participants may individually choose to sample a wide variety of methods or primarily focus on a specific technique to begin building a cohesive collection of work. The workshop includes early morning photo hikes, class time to cover the "how to's", and plenty of studio time. Please check out Workshops page of this website for more details, and information about Amy. Or you may contact Amy directly at contact@amyparrishfineart.com.