Encaustic Printmaking at 26 Split Rock Cove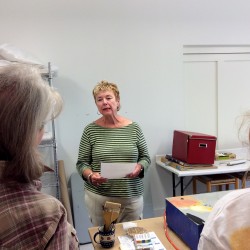 What a treat to work with encaustic artist
Barb Cone
!  Sunday's Encaustic Printmaking Workshop gave those of us here much inspiration, incredible materials to work with, and lots of methods to practice and use in our work.
Barb began the morning with an overview of the variables that inform the process.  She went through all the materials she had brought for us to work with – our fabulous Enkaustikos sticks, a hug variety of papers to explore, and finally the first demo for printmaking on the hot boxes.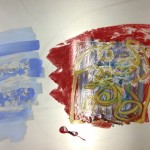 We each had our own hot box on which to work, and our own stash of materials, including some prepared samples which Barb gave to us for teaching purposes.  And off we went.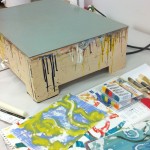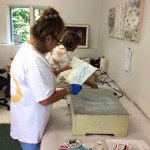 As a book artist, I'm intrigued by this less waxy encaustic surface for book pages, and end pages.  For mask-maker, Diane Green Hebert, using the encaustic surfaces for embedding into her 3-dimention masks adds luster and layers.  Vicki Pittman, already well-versed in encaustics, experimented with her calligraphic lines and shapes, drawing directly on the hot box with her sticks.  Barb Cone's deep knowledge of the medium, and years of experience kept us all working solidly for hours.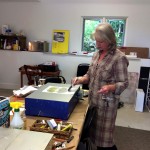 No one wanted to stop for lunch!!  We were immersed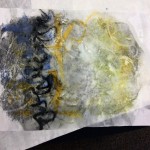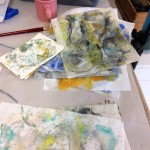 Here's a print by Barb.  Someday we'll get there.