Drawing Close to the Earth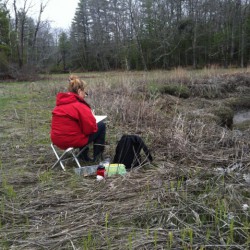 And close we were on the banks of the St. George River at the
Trolley Marsh Preserve
, one of the Georges River Land Trust sites.
Dudley Zopp
led our group of nine artists in a two day workshop, Drawing Close to the Earth, hosted by 26 Split Rock Cove and in collaboration with the GRLT, encouraging us all to observe closely, listen to what our eyes cannot see, feel the way the land is formed and informs us.
Through rain and clouds, and finally glorious sunny weather at the Pleasant Point Preserve in Cushing, we hiked through fields and forest, found personal sites to set our chairs, unwrap our drawing materials and drew for hours on end, studying trees and rocks, hillocks and moss, and capturing the bird song in our images.
Dudley provided us with reading materials, resources of other artists, and thoughts about preserving the land in our daily actions.
At the end of two days we felt invigorated and centered.We all wondered why we didn't do this more often, but all were grateful for this opportunity and Dudley's fine leadership and generous encouragement.