Creative Retreat with Amy Parrish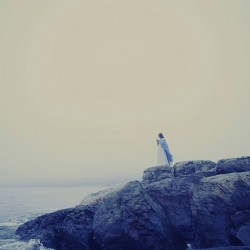 February 9, 2017
One of the most satisfying parts of 26 Split Rock Cove is getting to know the artists and writers who come to stay and work here. This is surely the case with Amy Parrish, photographer and mixed media artist, who is in residence here this winter and has become a good friend.
Amy worked as an award-winning portrait photographer and traveled the United States teaching other professionals within the industry. In 2014 she shifted her focus from commercial work to very personal, hand-processed image-making. She studied alternative photo processes with Brenton Hamilton at Maine Media Workshops in Rockport, ME, which is how she came to find me at 26 Split Rock Cove two winters ago. So I was delighted to hear that she wanted to return this winter after an amazing year in India where she served as Director of Operations and instructor for The Light Space, a program which offers vocational training in photography for young women who have been affected by the commercialized sex trade.
Now I'm pleased to announce that Amy is offering a series of workshops entitled Coastal Retreat from April 19 – 25. You may sign up for one workshop, two workshops or all three! The first workshop, April 19 & 20, is a photographic adventuring out into the landscapes of this region of Maine, capturing some of the magical, mystical scenes that those of us who live here, call home. The early morning mists over the bays and ports, the glorious sun rises over the islands in Mussel Ridge Cove, and the rocky shorelines of our peninsula. The second workshop, April 21 – 23, introduces us how to alternative photographic processes, and we'll use our images in a variety of ways. And the last workshop, April 24 & 25, of the week is a creative retreat, in which participants can continue their work, or work with Amy in creating portraits in her style and using her immense knowledge of the camera and its possibilities.
Come join us at 26 Split Rock Cove for any or all of the week's inspiring workshops with Amy Parrish. Make this a retreat of your own!!
For more information or to sign up go to Workshops on this website or contact Amy at contact@amyparrish.com or Sandy at sandy@26splitrockcove.com or call Sandy at 207-596-7624