Atmosphere, Light, and Color: a painting workshop with Julie Houck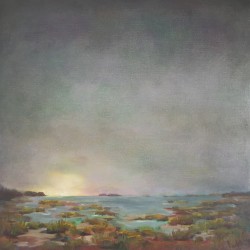 26 Split Rock Cove is delighted to have Julie Houck return for another 3 day painting workshop, July 29 – 31.  Last year, Julie arrived here with her paints and canvas, and a fancy touring bike for her long 50 miles rides.  Over the course of her one month stay at 26 Split Rock Cove, Julie painted and painted, rode and rode and towards the end of the month gathered 8 students together to Paint Clouds and Skies.  Through a slide talk, demos, and lots of time outside, participants painted some exciting sky-ward landscapes.
With great pleasure, she will be back this year.  And now we turn to understanding how atmosphere is created on the canvas.  Through direct observation, we will not only explore how light and color influence what we see, but how we see it.  How can we capture a scene's essence beyond the literal view?   I'm looking forward to capturing the salty air at 26 Split Rock Cove and all of the experiences that are brought to mind by the very special atmosphere of this place.
Please think about joining us this July.  For information, check the Workshops on this website.
A short bio:  Classically, trained, Julie Houck has been teaching art for 17 years. She studied at the Atelier of Classical Realism, the Academy of Fine Art in San Francisco, and in France at the L'Ecole Albert Defois with Ted Seth Jacobs. Her work is in the permanent collections of the Hawaii State Art Museum and the Hawaii State Foundation on Culture and the Arts. A featured artist at the commemorative 2000 "Artists of Hawaii" exhibit at the Honolulu Academy of Art, Julie's work has been exhibited extensively in Hawaii, the mainland as well as in Europe. Julie is a Signature Member of Plein Air Painters of Hawaii and International Plein Air Painters, and the American Impressionist Society.  You can learn more about Julie at www.juliehouck.com